It's a happy Friday! After a quick week, I'm excited for a wonderful weekend! Hope you are too.

1// Birthday #1
It's this special lady's birthday tomorrow, and I'm excited to get to spend most of the weekend with her! My Nonny (grandmother) is a very important person in my life, and I can't wait to celebrate another birthday with her!

2// Birthday #2
My Nonny and my best friend share the same birthday! We don't get to celebrate together as she and her husband live in Oklahoma now, but I want to wish Sarah the happiest 23rd!
3// Shopaholic
As of late, I make the argument to myself that I'm going to save my dollars and do a little less shopping. And then the next day, I buy a Kate Spade wallet, a couple of nail polishes at Target, and a pair of shoe's at Nordstrom. Okay, maybe not all in one day, but I need to be better at splurging, whether it's big or small. Inspired my Mackenzie over at Design Darling, I'm going to withhold from shopping for a month -- an entire month. Of course, I'll still buy gifts, groceries, and the necessities, and I'll still have all my wanted lists that show up here, but I'm going to put myself to the task of only buying things that I truly
need
, considering that so many people in the world are wanting for things like good food and clean water. I'll let you know how it goes!
via
4// Snail Mail
With all of the handwritten letters that I've been sending, I've been trying new ways of addressing them. I'm partial to this gorgeous letter.
via
5// Happiness
This photo makes me happy -- the promise of the spring that is soon to come and the warm weather that is here to stay.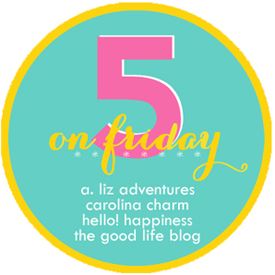 Stop by to see these lovely ladies!
Happy Friday, lovelies!