Friday is here! And as always, there are many things on my Wanted List (because blogging makes me shop too much -- or maybe I just like to shop.)
1//
Now that I drink way too much coffee (this morning it's a Starbucks Venti Vanilla Blonde), I'm always looking for cute mugs, and I do believe
this one
takes the cake.
2//
If you don't follow Elise over at
Cheers, Y'all
, you definitely should! It's one of my morning reads (every day). Plus, she has a great
Etsy
shop, and I happen to think this would look perfect on my new bar cart!
3//
I first saw this
candle
at a local boutique and was blown away by how wonderful it smelled! Would love to add this to my candle collection!
4//
I'm on a roll with things I'm loving, so how about this
J.Crew
sweater with a pop of neon! I'm dreaming of warmer weather, but for now, this will do. Obsessed!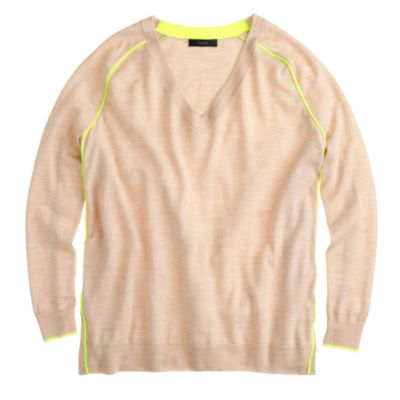 5//
I'm all about a pop of color these days, so how fabulous are these
sunglasses
! Love!
It's fun to want sometimes, but on this Friday, I'm thankful for a warm home, great family and friends, and the sweetest boyfriend -- and for a great weekend ahead!
I'm linking up with the Five on Friday gals, so be sure to check them out!