Last night, I glued myself to the TV to watch the Super Bowl the Oscars. Though I love watching the awards show, especially with Ellen hosting, I'm always most excited about the red carpet, and last night, these leading ladies did not disappoint.
Lupita Nyong'o in Prada, Jennifer Lawrence in Dior Couture, Amy Adams in Gucci, Charlize Theron in Dior, Naomi Watts in Calvin Klein Collection, Kerry Washington in Jason Wu
All of these ladies looked incredible (plus so many others), but these looks were my favorite. I am obsessed with Lupita's flowy dress -- that gown is incredible and the color is flawless. Naomi Watts didn't disappoint either, and she was the epitome of class in her sleek gown. And Kerry Washington absolutely glowed in Jason Wu -- pregnancy suits her and she is always dressed to perfection.
Kate Hudson in Atelier Versace
My best dressed award has to go to Kate Hudson. This look is
perfection
. She looks like the picture of old Hollywood with her sleek hair, smoky eye, and neutral lip. I love everything about this. Her gown has a regal simplicity that made her a standout, and I love the removable cape that changed up her look once she was on stage presenting. I could probably talk for days about this look; it honestly might be one of my all-time favorites.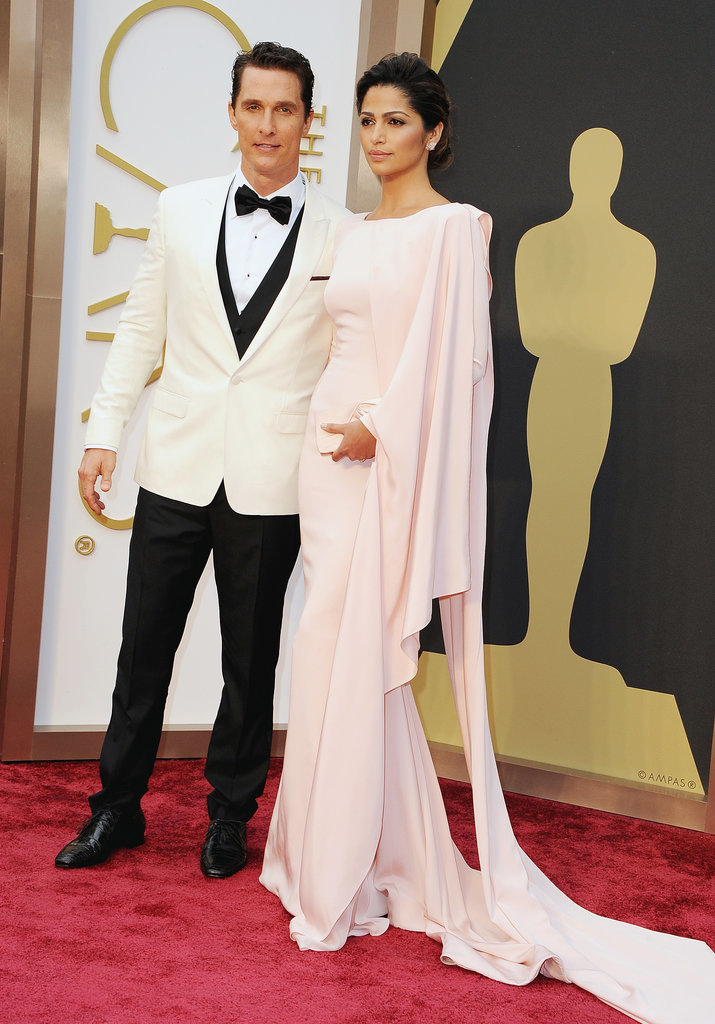 Best Dressed Couple goes to Matthew McConaughey and Camilla Alves. They are a such a gorgeous couple regardless of what they're wearing, but they looked absolutely stunning last night. And of course, MM took home an Oscar for Best Actor (and Best Dressed gentleman in my humble opinion).
Ellen was hilarious, as always. Ellen's sense of humor never disappoints, and I love that she was all over the place. Plus, who else would take a selfie with some of Hollywood's top A-listers during the Oscars? I know, right. Probably the best selfie ever taken.
I begged SW to watch Live from the Red Carpet -- his immediate response after about 2 minutes was that he was bored and that he needs two TVs in the living room. However, after a little bit, he started his own commentary:
In response to Cate Blachett's dress: Are those fishing lures hanging on that dress?
(I personally thought Cate Blanchett was stunning)
In response to my saying that I liked Kristin Cavallari's white dress: Really? You like that? It kinda looks like those shoulder pads on guards that stand outside the palace in England.
In response to seeing Jessica Biel: There she is. That's it right there.
SW, like every guy in America, has a crush on Jessica Biel, and is always heart-broken every time I tell him she's married to Justin Timberlake (he seems to always be surprised when I mention that fact).
There were so many gorgeous looks on the red carpet, and each new appearance made me think I had a new favorite. However, at the end of the day, Kate Hudson stole the show, in a look that was absolute perfection.
Who were your red carpet favorites?