Happy Valentine's Day, lovelies! It's a Valentine's edition of the Friday Five! Hope you have a wonderful day of love, and remember that though today is a wonderful day, we should love all year long.
1// #TeamTeddy
We want to spread the word about Mary and Alex Fish's seven-month-old son Teddy, a precious baby boy suffering from Menkes Syndrome, or "kinky hair syndrome." This is a rare genetic disease, affecting around 1 in 450,000 male babies, so please keep the Fish family in your thoughts and prayers!
2// Love Notes
I absolutely love sending snail mail all year long, but there's something extra special about those Valentine's love letters!
3// Valentine's Cupcakes
We had a couple of snow days here in North Carolina, which lead me to cook, bake, eat and repeat. I absolutely love cupcakes and these funfetti cupcakes were delicious!
4// Lovely Jewels
I'm obsessing over my
Lori Leigh Designs
jewelry case in this perfect Valentine's pink. And, what better way to tell the world about your valentine than this
gigglosophy
love initial necklace!
5// My Valentine
Happy Valentine's Day to my valentine! So thankful to call you mine!
(more snow day pictures to come!)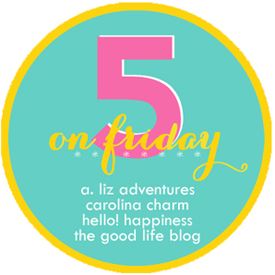 Stop by to see these lovely ladies!
Happy Valentine's Day sweet friends!